Regular price
Sale price
$15.00 USD
Unit price
per
Sale
Sold out
Cake is in a league of its own with nothing even close to similar on the market. The industry's

first and only

nutrient used during flush to increase your crop's value. Cropsalt was the first to promote the use of a finisher during flush rather than plain water. Cake has never contained any nitrogen as nitrogen elimination is the entire purpose of the flush phase. Cake is used to strip nitrogen from the rootzone and block its absorption while still supplying critical nutrients that promote weight and bag appeal.
When the market demanded color, we set out to find a way to make 

our crops more colorful without sacrificing weight. We knew that color is mostly genetic but we wanted to help those colors come through as much as possible. Nitrogen and color go hand in hand. We knew that low nitrogen levels stimulate the production of 
anthocyanins, which is color. Low nitrogen levels also trigger a plant to finish. Finishing and adding color is great but not if the result is sacrificed yield. The path to color was clear but now we wanted more. We didn't want to leave anything on the table.
Side-by-sides with Cake versus without on the same strains have shown:

Up to a 2.5x increase in total terpene content.

5%-10% increase in final weight.

30% higher total cannabinoid content

Drastic increase in color

There is no substitute for Cake. If you're not running it during flush your crop is not hitting its full potential. As with all of our products, we highly encourage side-by-sides. Run Cake next to any product on the market and see what Cake is about. If you're a huge fan of nutrient labels go ahead and scoop some potassium sulfate and run it next to Cake. You'll see real quick.
NO ADDITIVES NEEDED. Cropsalt will outperform any line just by following the feed chart.
40% fewer grams per gallon than the competition.
See our Grow Documents Page and Frequently Asked Questions Page for more information on Cropsalt and for grow information.
Visit www.CROPSALTVPD.com to dial in your environment.
Individual 1lb are not available in Canada.
View full details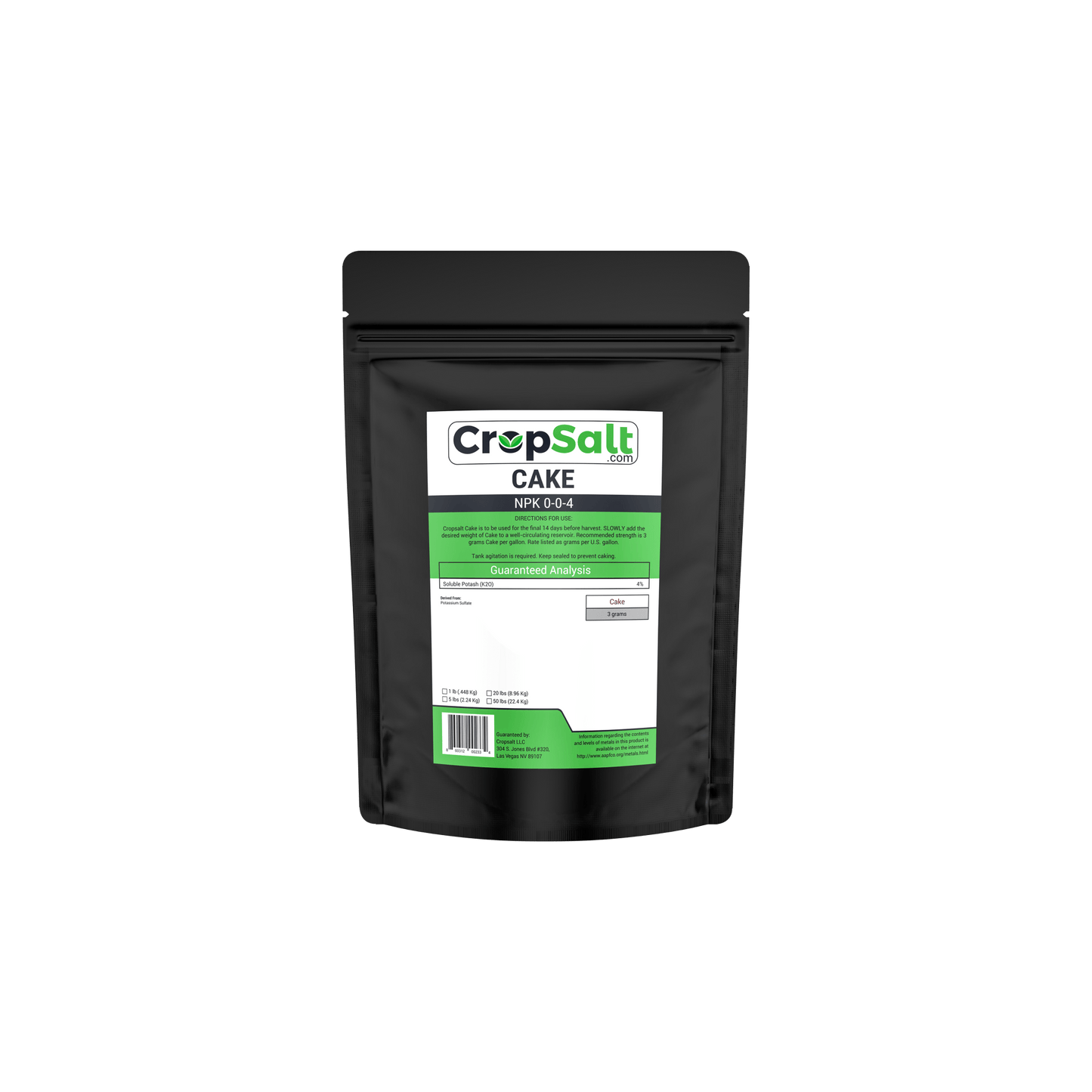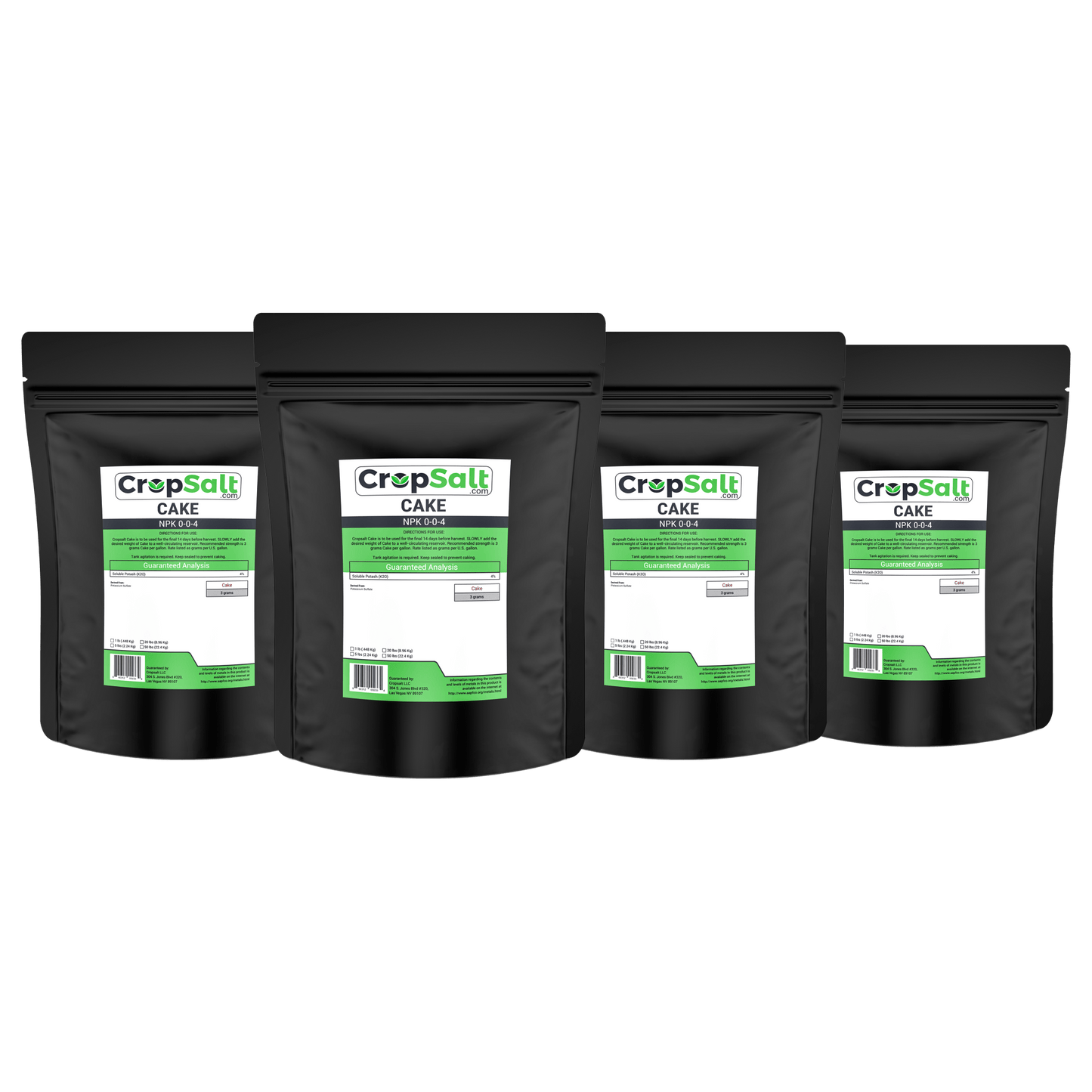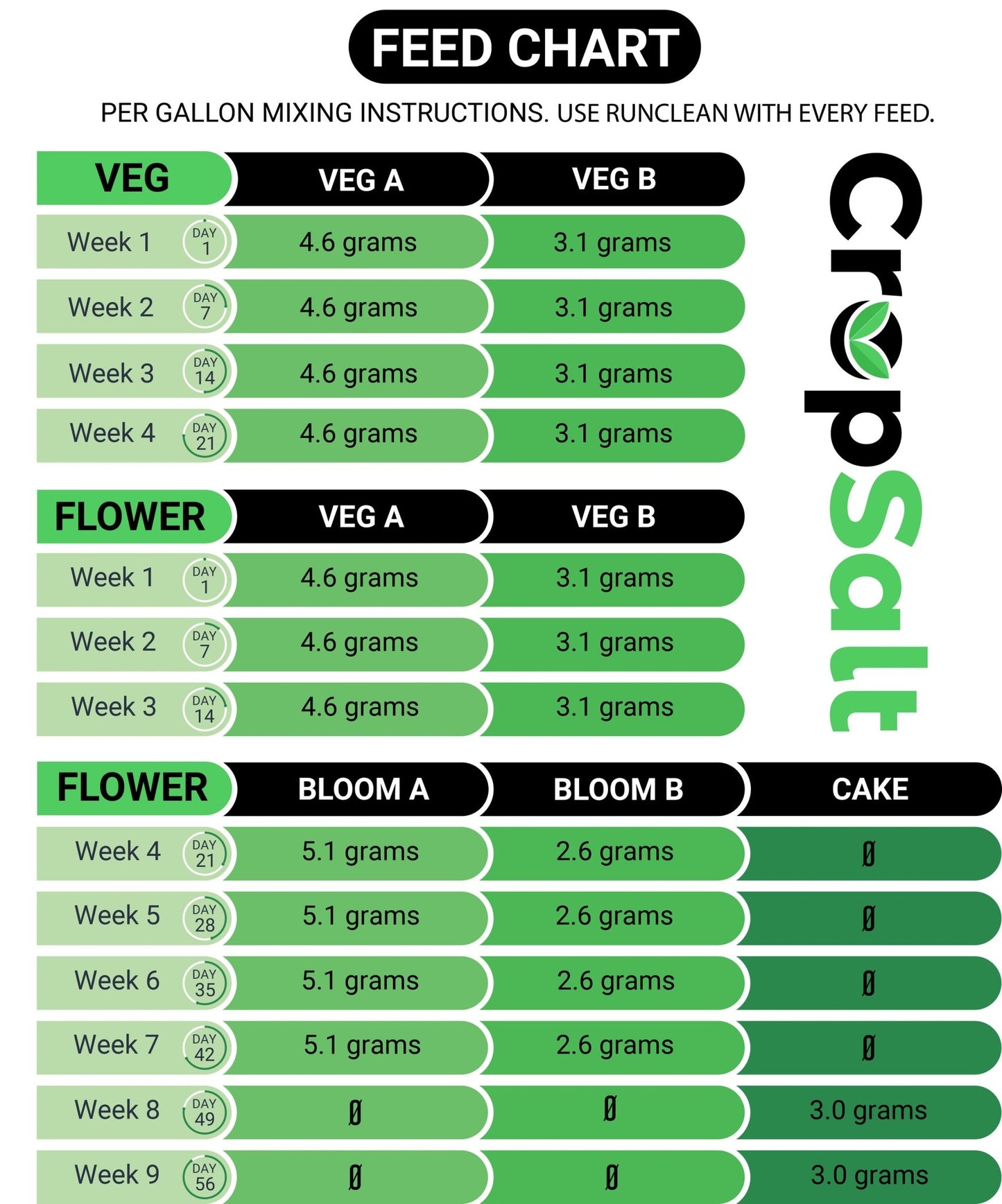 Review
Arrived fast and seems to be working well.
New to cropsalt
I found this on one of the discord I'm on, so I decided to try it. I used it on my 2 sticky Orange XXL. The first one I only used it for 7 days. On the 2nd one it's been on it longer. I started the flush the recommended 2 weeks prior to projected harvest date. It's crazy. Her buds have gotten noticeably bigger. I wish I had used cropsalt the entire grow.
Best finisher
Easy to use. Low ec and workssss.
Huge proponent of flushing
I stumbled upon this product in the Twitter feed. Something about it caught my attention, not the marketing but the chemistry reaction by inhibiting N. I already use a K booster called Liquid Blue from Blue Planet.
When I ordered I had a plant near its 3rd to 4th week of flowering. At this point I boost P and K with terp boosters (Foop sweetener) I needed to TEST how this would work in my finishing program and to further boost K, so I didn't use as directed but amended separately in aerated BA when I watered, mixed vigorously to be dissolved from 1/8 tsp to 700 ppm.
The first week I noticed more chunk, the 2nd I noticed more branches leaning from weight, along with overall lowers sites much bigger needing a few stakes for support. By the final week I needed 5 bamboo stakes for support. Half the plant was tipping over.
This plant doesn't normally have any color due to its phenotype expression (Xmas Bud 79) however its parent Tampa Crippy does have purple hues, and I can say this product brings out genetic color.
To finish, I was just able to sample some smaller buds dry enough to burn (pay attention to what I'm about to say) the chlorophyll is significantly LESS than normal, in other words that green grass/hay taste that's with freshly dried bud isn't so strong, don't get me mistaken those buds still need to cure and tighten up, but flavor is there without necessity, whereas unflushed requires curing to get flavor.
The product DOES as it says. When there's less chlorophyll to decaboxylate the flavors are more pronounced freshly dried. I'm sure they get stronger. The sample smoke was CLEAN and I'm sensitive to minute impurities of nutrients left in dried buds not flushed out enough. I still have to weigh, but I'm about 2x. I have a thread on Overgrow that features CS cake progress. I fully endorse this product as a known reputable grower.
Game changer
Ups the terps .. worth if you know whats to do