Regular price
Sale price
$20.00 USD
Unit price
per
Sale
Sold out
RunClean is a descaler unlike any on the market. We needed a solution to clogs and scaling that actually worked. There were many products with claims but everyone still had clogs and buildup in their reservoirs caused by scale. Runclean checks all the boxes. Use it to keep your reservoirs, drip lines, pumps, emitters, sprayers, pots, and tables free from scale and clogs. RunClean is also used to soak parts and equipment that has buildup. RunClean increases mineral availability by dissolving carbonates.

RunClean is not hypochlorous acid and does not increase ORP. Hypochlorous Acid is not an effective descaler. HOCL is used to increase ORP. Increasing ORP is used to keep systems sterile and prevent or eliminate biofilm.
Scale is caused by nutrient solution clinging to the walls of irrigation systems, reservoirs, etc and forming a solid. Scale has nothing to do with nutrient solubility and is seen most often in parts of irrigation systems that go dry regularly, like the reservoir and emitters.  The white "crust" you see on pots and tables is scale. When pieces of scale break off and flow through an irrigation system, it causes clogs.
Cropsalt's Runclean:

Completely stable and will not sour your rez like other products on the market

Replaces ph down

Does not increase or decrease ORP

Does not contribute to EC

Makes minerals more available in soil applications

Prevents calcium "fallout"

Acts as a surfactant

Eliminates the need for reverse osmosis water in most applications (under .7 EC tap or well)

Does not harm microbes

100% environmentally safe

Stable when used with chlorine products like bleach and h

ypochlorous acid

Does not interact with silicates

0-0-0 NPK
Directions for use:

If using ph down, use Runclean instead

.2-.4 ml per gallon with every feed to prevent scaling and clogs in a clean system.

1 ml per gallon to reduce existing scaling and clogs.

4-8 ml per gallon for equipment soaks and between runs to "reset" and dissolve any scale.

Use of a wavemaker in the rez or in your parts soaking container will increase rate of descaling.

Contact time directly correlates with descaling abilities.
Visit www.CROPSALTVPD.com to dial in your environment.
View full details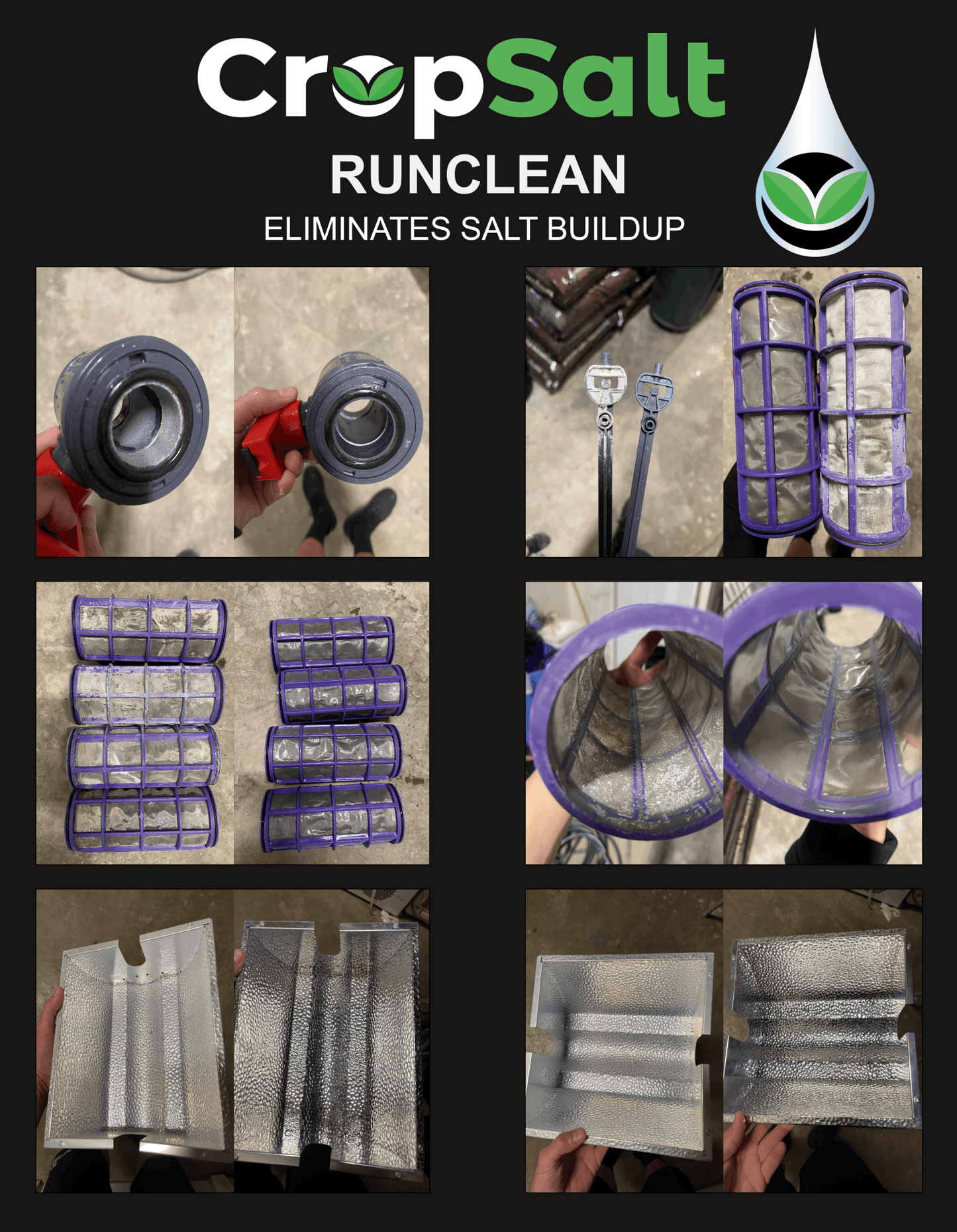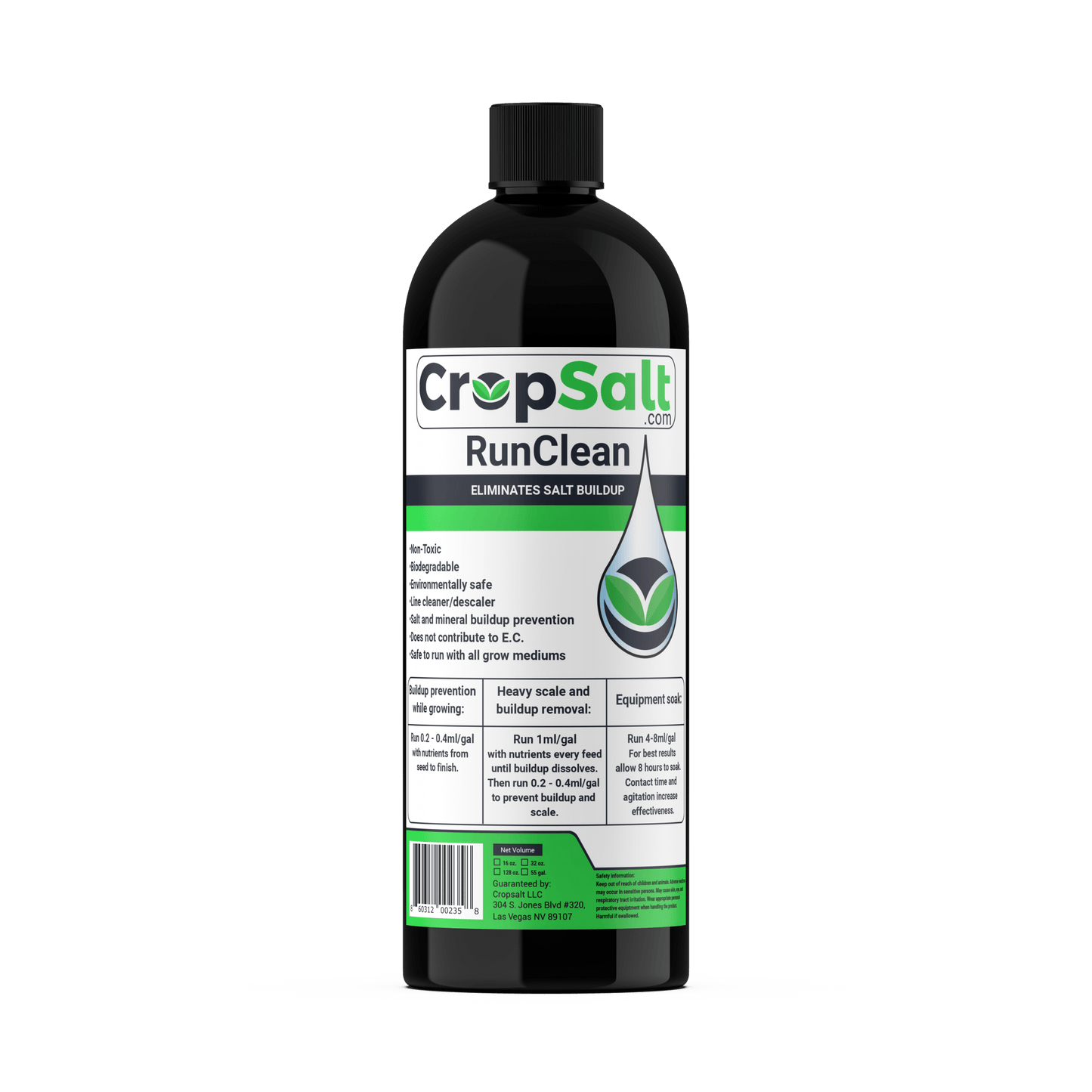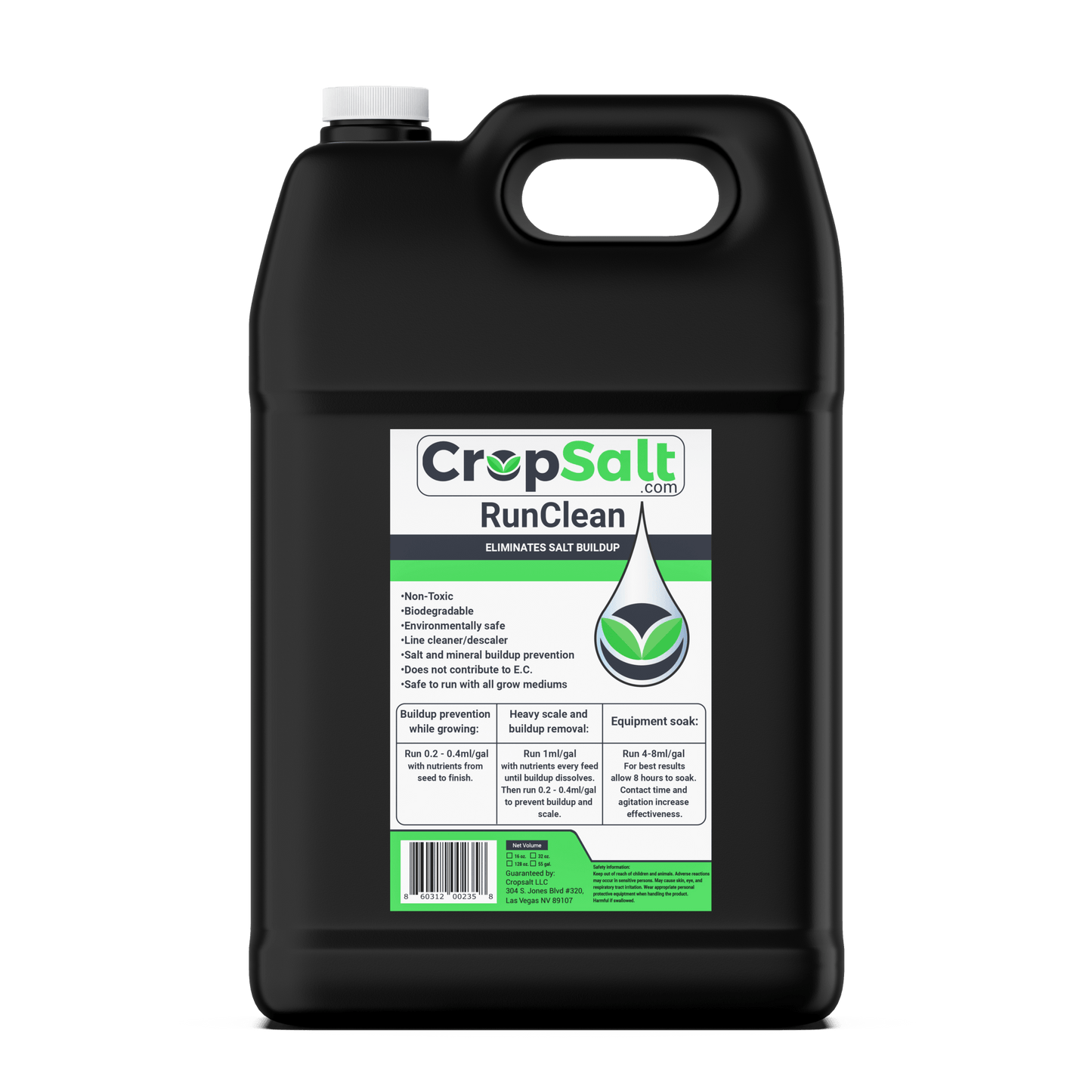 Switching to Cropsalt
12 days into veg & I already see results!! I've ran almost every nutrient line out there that was worth running & was tired of buying 10 different products to get the results I wanted. I'm loving the simplicity of the product & how clean the reservoir is. Cropsalt from here on out…
Run clean
Never running anything but Cropsalt. Run clean is a must for your irrigation. I'd give 6 stars if I could!
Use it to clean your $h!t, then keep it clean!
Runclean has worked well for me as an equipment soak/reset, to descale, and works amazingly well as an additive to the part A stock tank as well as an alternative to pH down. It's completely replaced the harsh acid pH down I was using before.
If you run it, you already know
Tired of Salt companies competing in the market by trying to sell cheap inputs which forces more labor onto you and you're crew. Look no further clean, CONSISTENT, and quality minerals for you medium brought to you by cropsalt.
Running the cropsalt line has really let me step away from the garden. Harvests and resets take a quarter of time. It's as simple as rinsing off trays and pots and getting everything ready to foam and sterilize. No more scrubbing , using unnecessary chemicals that don't sterilize, and (best of all) bringing outside machines to clean. Don't get me wrong I always enjoy a power washer myself.
I've played with this line quite a bit and I've worked a lot of lines before from the cleanest to the dirtiest and nothing has aimed for the consistency that cropsalt brings to the table. Recommend making concentrates w/ the salts rather that working with powder everyday. Protect your lungs. My opinion
Cropsalt does it again with RunClean
Long time cropsalt user but new time RunClean user.
I've recently started using RunClean as my PH down and I could not be happier. Super easy to use just few capfuls into my 200L res and I was sitting pretty right where I like to be 6 PH or yellow as I would say because I use PH drops for testing my PH
Cropsalt is all around amazing company with excellent customer service. I've never looked back since making the switch many years
ago after finding them on Instagram