Regular price
Sale price
$15.00 USD
Unit price
per
Sale
Sold out
Veg B is a fine powder that mixes consistently every time regardless of the reservoir size. Unlike other soluble lines that sell large prilled inputs, we mix all inputs, grind, and then mix again to ensure every grower gets the benefits of soluble fertilizers. Fully soluble and clean.

Veg A and Veg B are used together from clone to day 21 of flower. Cropsalt was the first line to talk about the importance of veg nutrients through day 21 of flower and produce a feed chart showing how nutrients are properly run. Feeding Veg nutrients through the first 3 weeks of flower, during transition, limits stretch and produces tight internodal spacing.
NO ADDITIVES NEEDED. Cropsalt will outperform any line just by following the feed chart.
40% fewer grams per gallon than the competition
Cropsalt is the only line with multiple sources of calcium.
Cropsalt is the first line to run a set EC from start to finish.
Ph Stable.
Finely ground.
Zero dyes.
Doser and stock tank ready.
Resealable packaging.
Same feed chart since 2016. No

 

surprises or new additives to buy.
For growers. By growers.
Recommended strength is 3.1 grams Veg B per gallon.
See our Grow Documents Page and Frequently Asked Questions Page for more information on Cropsalt and for grow information.
Visit www.CROPSALTVPD.com to dial in your environment.
Individual 1lb are not available in Canada.
View full details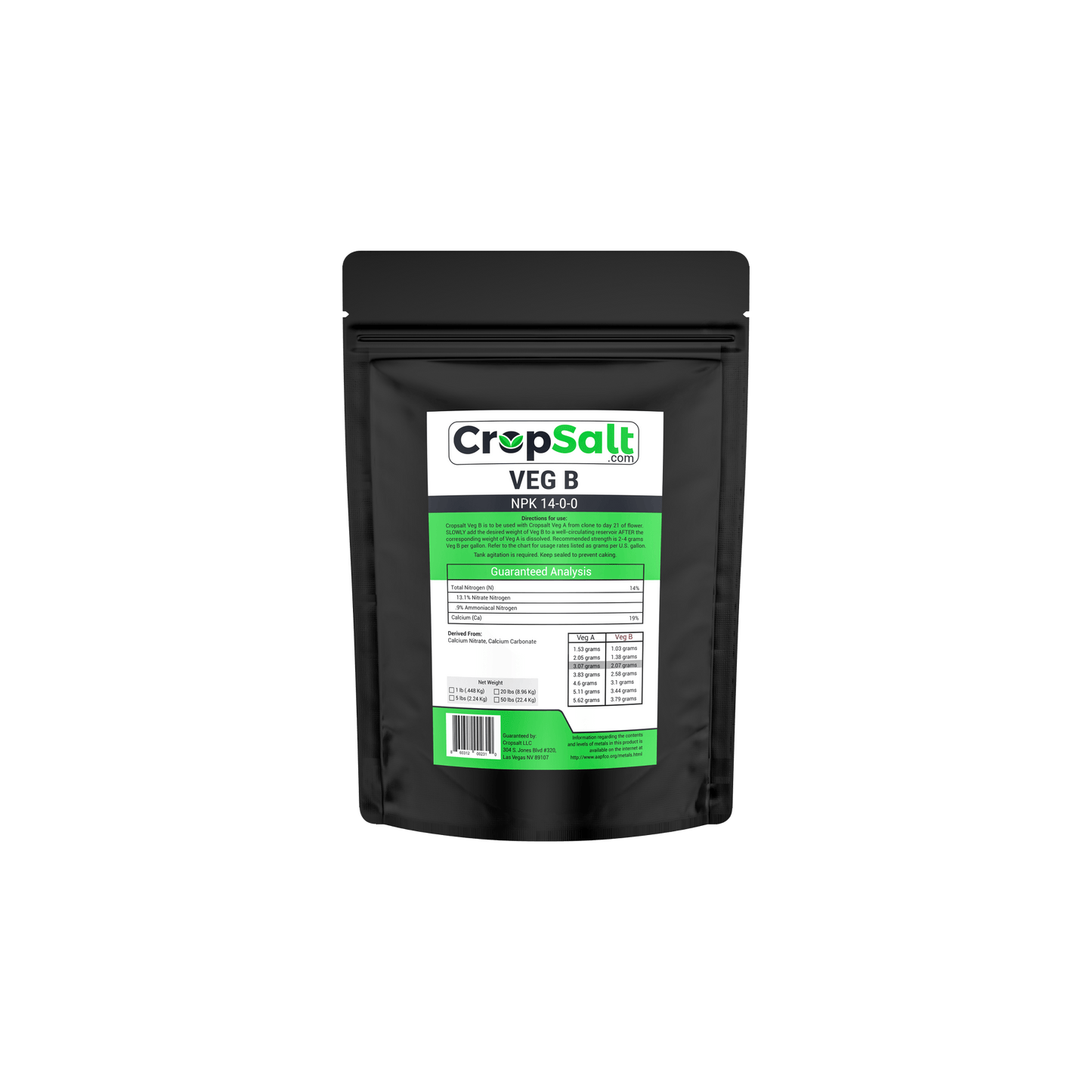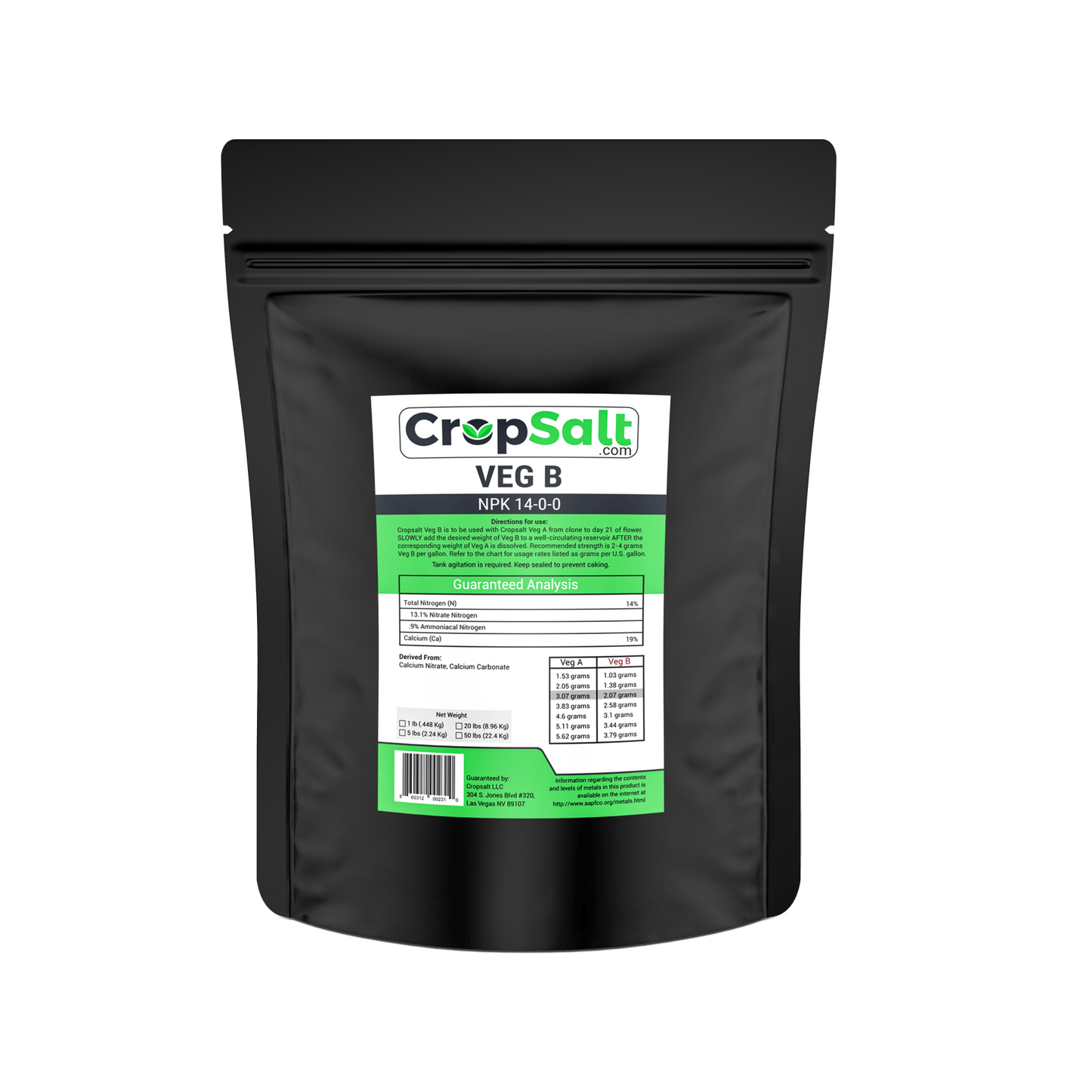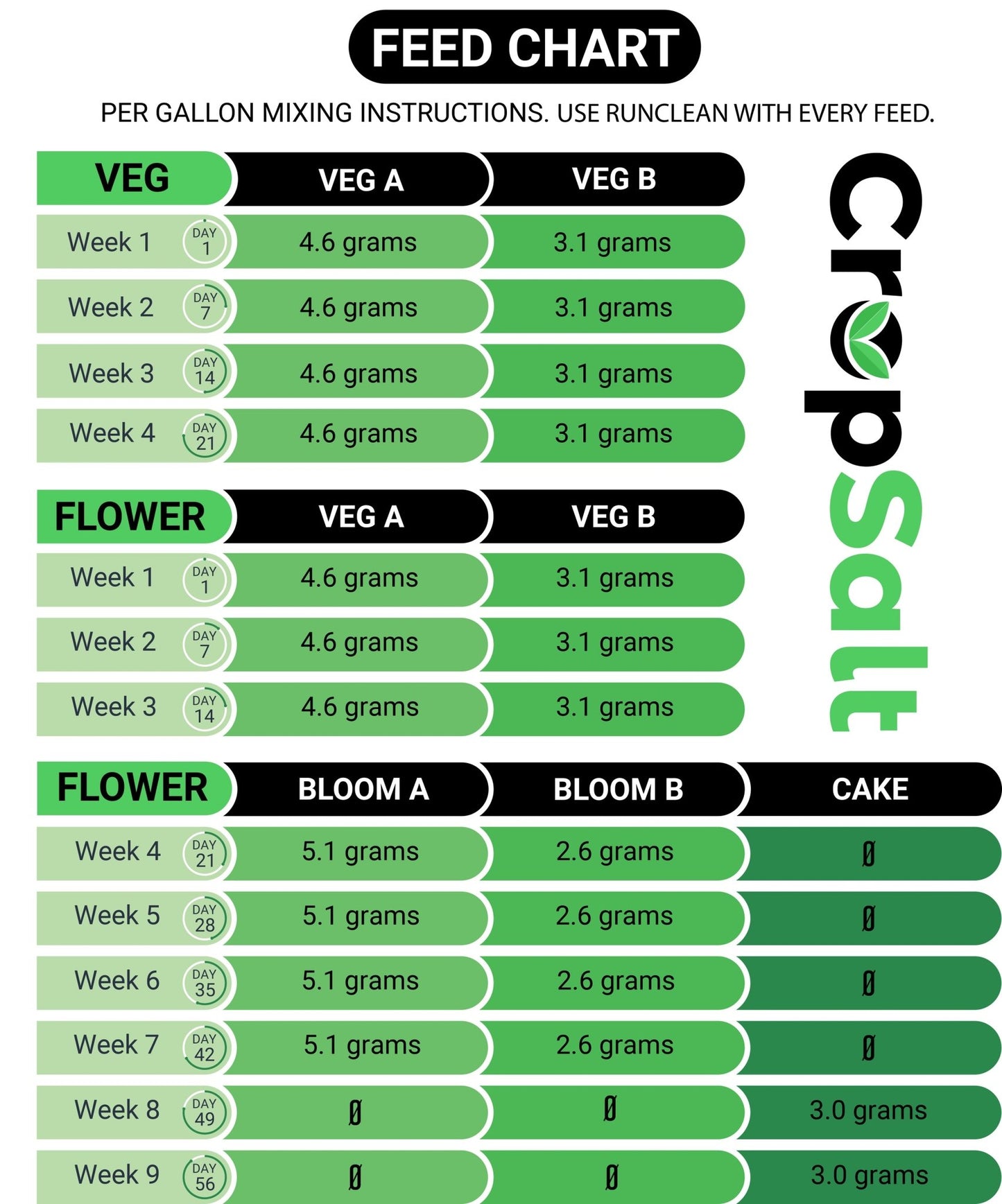 Cropsalt!
Never running anything but Cropsalt. I'd give 6 stars if I could!
Best line around
Love the full line best and easiest system to use just follow the feed chart and get amazing results
Cropsalt kicks ass
Hands down the most no nonsense approach to indoor cultivation/large&small scale crop steering. You can run cropsalt products by themselves and achieve great results, or add some bennificials and fee tea drenches for the absolute lowest cost approach top tier results. Wether you grow for hash,or for dried flower it's crop salt or bust. 👌🏼
The only thing you'll need
This is all I use for the most amazing bud I've ever seen. Quit wasting your money on all the bullshit feeds out there.
Easy use
I found this to be easy to use and my plants love it